By: Logan Stevens and Marisa Mares
On March 19-21 Wayne High School Family, Career and Community Leaders of America (FCCLA) traveled to Layton, Utah to the State FCCLA Convention. For the past year Kristen Stephenson, a Senior at Wayne High, has been the President of State FCCLA. One of her responsibilities was to conduct the meetings and with her State Board plan the event. Through her outstanding planning and leadership skills the State Convention was well run and organized. Also attending the convention were Wayne High School's FCCLA Officers: Vanessa Barlow, Jaden Blackburn, Miriam James, West Saunders, Logan Stevens, and Marisa Mares.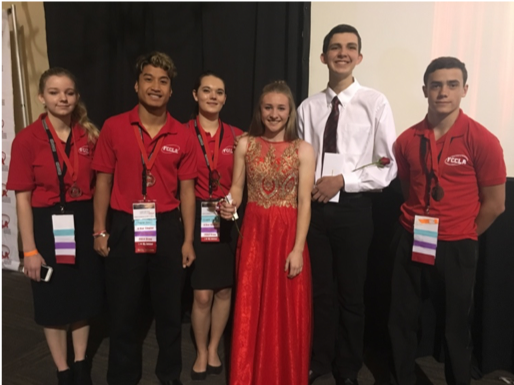 On March 20 the competition started and the fun really began. At 7:30 am, all officers collected for breakfast which was provided by FCCLA through the Hilton Garden Inn, and then they signed into their categories and received their competing time. Vanessa and Jaden competed in Focus on Children with a project titled "Spark Quad." Their project was on an after-school program for kids to learn about cultural heritage. Logan and Marisa competed in Chapter Service Project Display, doing The Caps and Gowns collection project for seniors that chose not to purchase or couldn't afford a cap and gown. Miriam and West competed in Life Event Planning with their project titled "A Trip Back in Time." This project was about the planning process of the 2016-2017 '50's themed Preference Dance. After competition was over and a closing ceremony everyone was done for the day and was released for dinner but urged to be back for the dance, bouncy house, and karaoke that ended the night.
On the last day of the event was the award ceremony and during the ceremony all members of Wayne High School's FCCLA received a silver in their categories. It was also announced that Jaden Blackburn received the position of Utah State Vice President of Community Service for the 2018-2019 year, and will be attending Nationals in Atlanta, Georgia. Overall state FCCLA was a blast to attend. We are proud of the four State officers from Wayne High in the last six years. In recognition of dedication to FFCLA and her outstanding leadership, Mrs. Taft received the Master Advisor award. Thank you, Mrs. Taft, for your support of us and all of the FCCLA members that have gone before us.
At the end of the event Kristen handed over her position to the next State FCCLA President. We are proud of the work she accomplished and the fine way she represented our State and our school. Thank you, Kristen.