Wayne High XC State Champions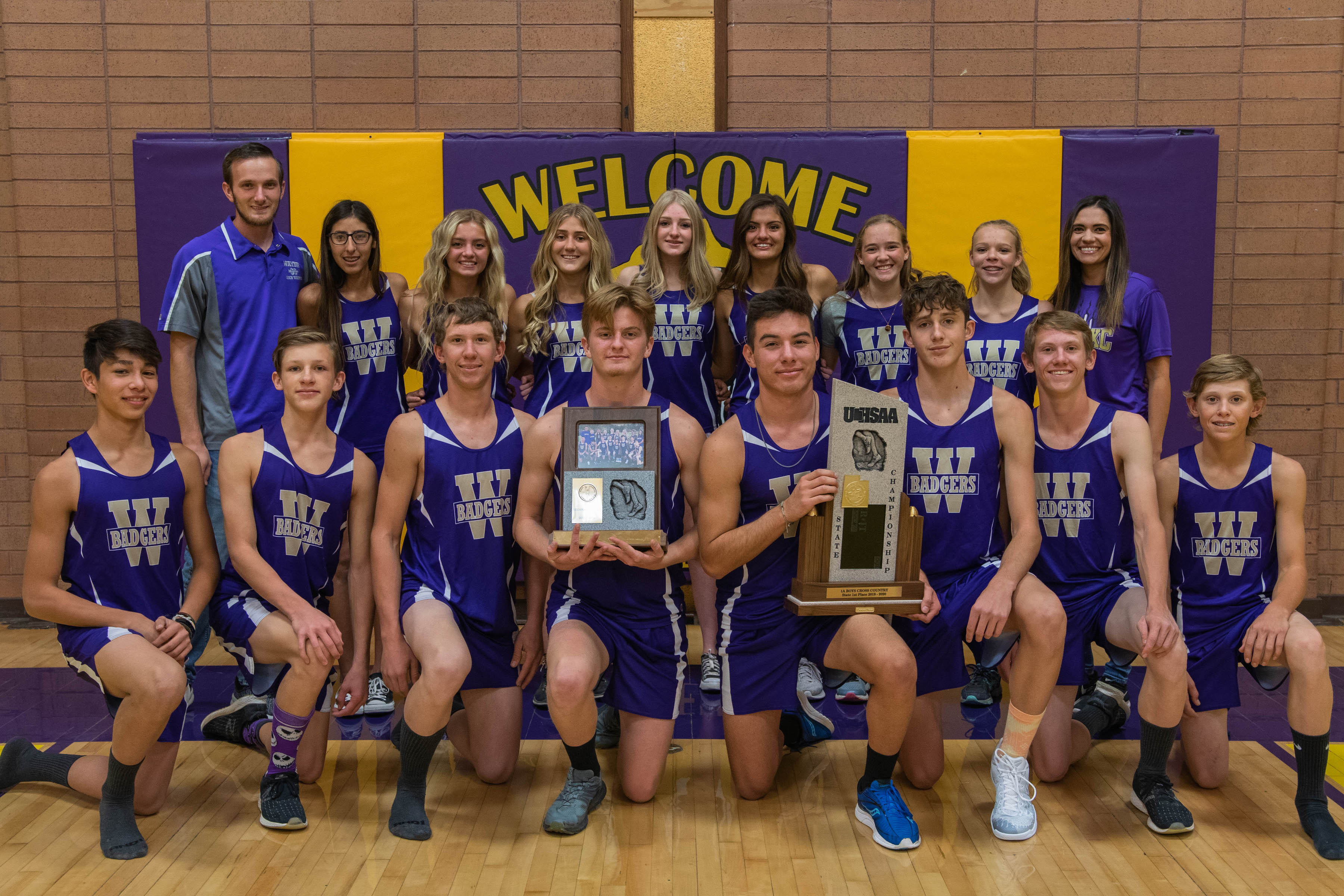 Wayne High Boys XC Win First State Title, Girls Place 3rd
By Lane Sorensen
As Wayne High sophomore, Miles Guerrero, crossed the finish line at the 1A State Cross-Country Championships at Sugar House Park in Salt Lake City, he couldn't believe what he had just accomplished. He had just taken 2ndplace in a very tough State race with a time of 17:21.2, only 4.5 seconds behind the 1A champion, Luke Reeder, from Panguitch.
"My mindset was very focused on never letting the first runner more than a stride ahead of me. I knew what had to be done for our team and for myself. It was game time," Guerrero said about what his game plan was going into the race.
It was in this moment that Guerrero turned around to see where his other teammates were, and to his astonishment they were not too far behind. Reed Edwards was the second Wayne runner across the finish line, placing sixth with a time of 18:00.8. The next two scoring runners for Wayne, Jace Edwards and Riley Edwards, placed 12th(18:30.5) and 13th(18:32.8), respectively. This strong performance brought Wayne a score of 33, which was more than enough for them to capture their first ever boys state cross-country championship.
"The thrill of seeing my teammates cross the finish line so close together was moving. As I saw our fourth runner finish, I knew we had done it. We were state champs. The entire season stacked upon that moment. The reality of what we had just done hit me. We had done it and I burst out in tears," Guerrero said about what that moment was like when he realized that his team had done something that had never been done in school history.
As the team embraced and shouted in excitement, the many hours and miles that they had put into the season suddenly became worth it.
"It was like instant satisfaction. It also made me feel like it all was worth it," said Reed Edwards, a freshman.
Jace Edwards, a junior and the boys team captain, described the moment he knew they had just won the state title. "It was indescribable. I was overcome with joy and excitement. Toward the end of the season, I really just tried to get everyone hyped up because we were already pretty tight as a team." And this he did.
Going into the State race, the Wayne boys knew they had a chance. Just a week prior, they had captured their first Region title by scarcely pulling out a 2 point win over Panguitch. So, they knew that it wasn't going to be easy going into State. They did, however, believe that they could do it. They had the desire and the dream to hold the state trophy in their arms, and they were going to do whatever it took to make this dream a reality.
"As a team, we have always had a large amount of competitiveness between us. However, it worked in our favor, we were running our own race as well as each other's. Our team bonded and we became stronger because of this fierce drive to win. When it came down to it, we all had what it took and much more to hold our schools first cross country state trophy," said Guerrero about his team.
Nate Kunze, Manny Rascon, and Brandon Diaz were the other three runners for Wayne, coming in at 32nd(19:42.2), 35th(19:50.1), and 45th(20:34.3), respectively.
The top 5 teams in the boys race were as follows: 1st- Wayne 33, 2nd- Panguitch 53, 3rd- Piute 56, 4th- Water Canyon 82, 5th- Valley 91.
On the girls side, Wayne ran a great race against all of the tough competition and placed third. This is a big step up from last year's sixth place finish. AnDee VanDyke, a freshman, led the team by placing 11thwith a time of 22:22.3. Natalie Whipple and Felicity Williams were close behind, placing 14th(22:49.8) and 16th(23:11.2), respectively. The rest of the team came in as follows: Shaleen Nelson 35th(26:08.5), Allee VanDyke 43rd(26:45.5), Saray White 51st(28:03.7), and Elena Peterson 60th(30:08.4). With such a young team, the Wayne girls have a bright future ahead of them!
The girls team scores were as follows: 1st- Milford 18, 2nd- Panguitch 23, 3rd- Wayne 74, 4th- Monument Valley 86, 5th- Bryce Valley 90.
It was a great season and as the coach of these amazing young men and women, I just want them to know how proud I am of them and for all the hard work they have put into the season. Great job Badgers!