Latest News
Details

Hits: 1557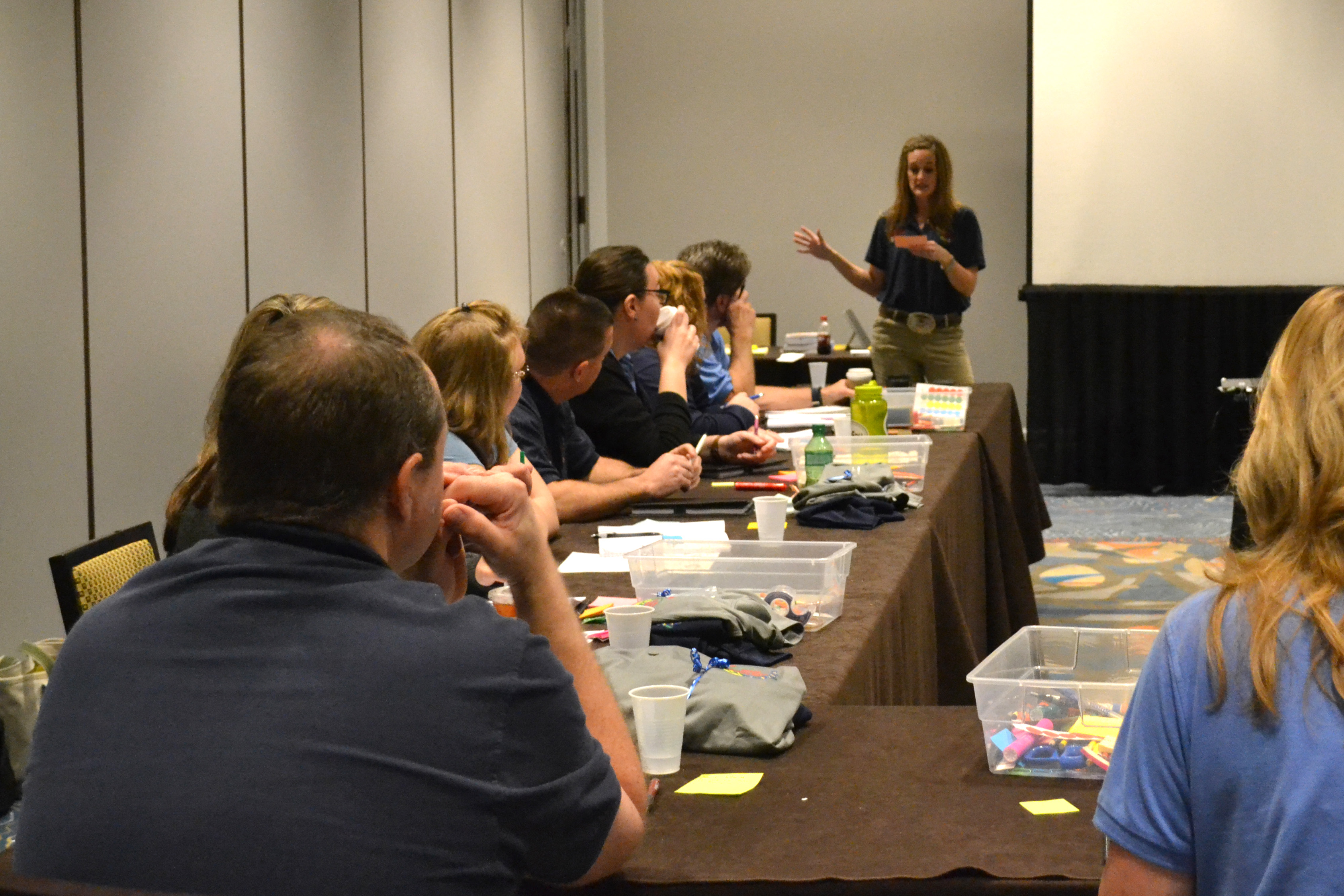 Jessica Grundy, the Agriculture teacher at Wayne High School, was selected as a National Agriscience Teacher Ambassador. Last weekend Mrs. Grundy met in Orlando, Florida with other teachers to attend a bootcamp for National Agriscience Teacher Ambassadors.
This group of agriscience educators came to Orlando to learn more about the "how" of teaching. That may seem a little odd considering these folks from 10 different states represented decades of combined classroom experience.
These select National Agriscience Teacher Ambassadors were training to become facilitators. Their goal was to learn more about the mechanics behind teaching other teachers. Their topic? How inquiry-based learning and increased science rigor can increase student achievement.
During the two-day bootcamp, participants were drilled on a variety of facilitation techniques, like using inclusive language and movement as a way to signal what your learner can expect next and giving directions that produce the desired outcomes (it's harder than you'd think). True to the hands-on philosophy of agriscience education, participants practiced these over and over, often being stopped mid-lesson by mentor facilitators and gently guided back on the right path.
"As we're sending these facilitators out to be teachers of teachers, that's a departure from their normal every day in the classroom." said Wes Crawford, an agriscience teacher from Oregon who is also a National Agriscience Teacher Ambassador Mentor Facilitator who co-lead the training.
"While they bring a wealth of knowledge, we need to help them be even more impactful, so when they're done with other teachers from across the United States, those teachers can go back and be purposeful in implementing agriscience and inquiry in their own classrooms."
Congratulations Mrs. Grundy!! We know that the lessons you learned will impact the teachers you are going to train. But more importantly you are becoming even a better teacher, which will help your students in Wayne High School.
Details

Hits: 1394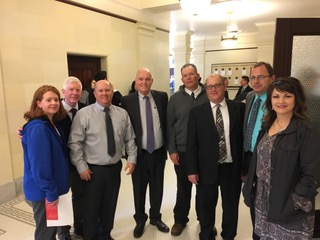 On March 17th, the school board had the opportunity to attend School Board Day on the Hill at the Capitol. The board had the opportunity to listen to presentations from various legislators and also from Governor Gary Herbert. This annual meeting is a great opportunity for our board members to get first hand information on what the legislature is working on. We are also able to discuss the proposals with representatives from other school districts in the state and to weigh in on how changes would affect our school district.
We were lucky this year that our entire board was able to make it – we are one of the few school districts able to say that. We also got to visit briefly with Senator Ralph Okerlund and discuss some of the bills they were working on.
A presence on Capitol Hill during the Legislative Session is critical since they control so much of our budget. Giving a local perspective to how new legislation will affect us is also critical and something we spent a lot of time doing this time of year.
Wayne County School Board
Details

Hits: 2450

This year Wayne High School restarted its choir under the direction of Joni Taft. The choir started out with about 15 students and grew to 38 by the Christmas Season. Many of these students have gone out of their way to come early to school and during their lunchtime to work on learning and practicing their songs. As Joni has built a fun and talented choir, they have performed throughout the county. They have performed at the Sr. Citizens dinner, PIE Night, Thurber, Fremont and Hanksville Wards, Bicknell Town Council Christmas Party, Thurber and Lyman Ward Relief Society, the Inter-faith Christmas Program, and the Loa Stake Choir Christmas Program. The community been very grateful and have had donation to support their program. South Central, the Ito Foundation as well as other community individuals have awarded the choir money. The choir students and Joni have made hundreds of loaves of bread to help finance their choir outfits. The Wayne County School Board has been very supportive towards the program.
We appreciate all the support financially and otherwise that we have received from this community. We have received many, many compliments and positive comments about how nice it is to have a Wayne High Choir.
The choir is now working on our Family Night on Broadway, which is scheduled for Monday Night, May 1st, and will feature the Wayne High Band as well as the Choir performing selections from Les Miserables. The choir is also working on 50's selections in preparation for the Preference Ball, which will be a 50's theme. We are grateful to Joni Taft for her dedication and spirit that has brought this great choir to our community. We are especially grateful for our talented students who are providing such a wonderful service.
Details

Hits: 1377
"The best way to find yourself is to lose yourself in the service of others." --Ghandi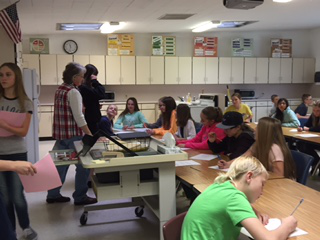 On Friday, February 17, WMS and WHS National Honor Society members worked with students at the middle school to begin a month long service project, "Letter to Soldiers." All middle school students in attendance wrote a letter to a member of the military. The letters will hopefully bring a piece of home (the U.S.A.) to the soldiers currently stationed overseas. Mrs. Stringham, NHS advisor; Rebecca Oyler, NHS President; Vanessa Barlow, NHS Vice President; and Kate Rees, NHS Secretary, along with high school NHS members, and middle school Junior NHS members worked with groups of 6th, 7th, and 8th grade students to create and prepare interesting and fun letters for our troops. Throughout the rest of February and until March 22, the middle school JHNS members will be collecting supplies to send to the soldiers with the letters that were collected.
The National Honor Society places high value on the service of youth. Each NHS and JNHS member is required to complete a certain number of hours of service throughout the year. Mrs. Stringham and the high school NHS officers are hoping that by involving the entire middle school in the "Letters to Soldiers" project, they have begun to create a feeling of gratitude and willingness to serve others.
We never realize what we do for others until someone does something for us. Because our military is filled with volunteers, we want to volunteer something for them to show our appreciation and help them feel like they are a little closer to home.
If you'd like to donate for the "Letters to Soldiers" project, please contact Mrs. Stringham at the high school, (435) 425-3411, or This email address is being protected from spambots. You need JavaScript enabled to view it.. She has lists of items that can be sent
Details

Hits: 1382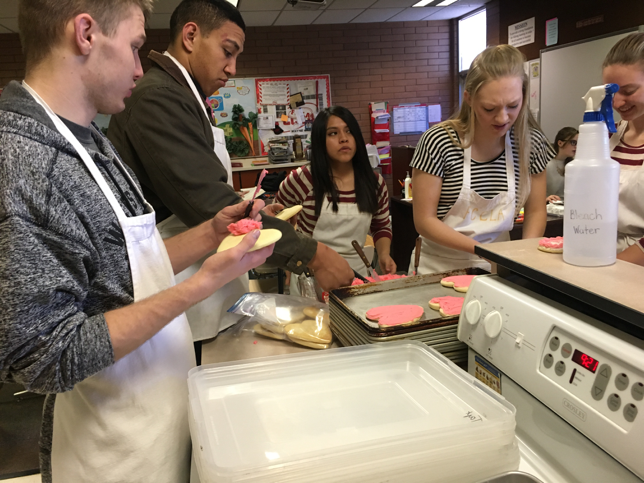 We celebrated Valentines Day with roses and cookies at Wayne High School. The Family, Career and Community Leaders of America, also known as FCCLA did their annual Valentine's Cookie fundraiser. Valentine's Day cookies are made by the FCCLA students, and then they are purchased and anonymously given to students around the high school. The day before Valentine's a freshmen boy donated money so that every girl in his freshman class would get a plate of cookies. Another student came in with $10.00 to buy a cookie for 10 students who hadn't been given a plate yet. A third student brought in a jar full of quarters that had been saved to purchase cookies for anyone who didn't have one. Three boys (all wrestlers) came up with the idea to give each girl at Wayne High a rose for Valentines Day. They paid for them and dressed up with shirt and ties to deliver them. These amazing students from Wayne High were showing the character they have been taught by stepping up and giving to others. We are so proud of our students at Wayne High!
Details

Hits: 1406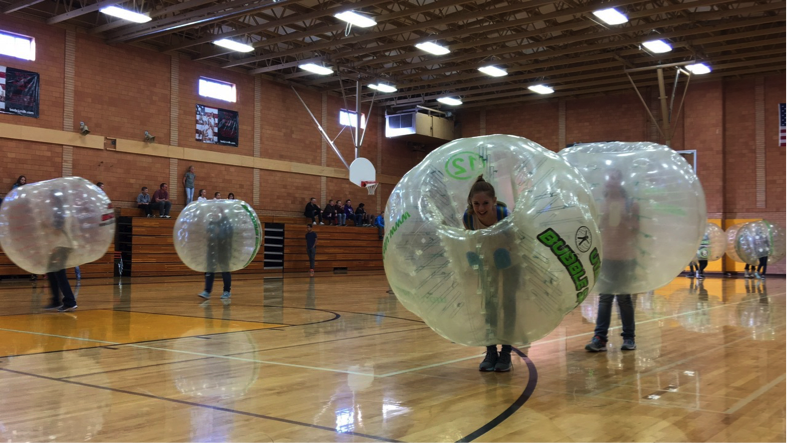 Student Council is a key component to the functioning of Wayne Middle School, bringing together student leaders and the hardest workers of the student body. The purpose of the student council at Wayne Middle School is to build leadership skills in students and to allow them to develop an investment and ownership in the school. We want them to investigate connections between their academic courses and the real world. The students that take part in the council become active leaders in shaping the culture of our school in a positive way, and to serve the community that we live in.
The criteria for joining the student council are stringent. Students must maintain a 2.5 GPA and have no failing grades. They must be good citizens and reflect that in their classes. Some duties students perform while on the student council include: participate in a weekly planning meeting, coordinate with office to prepare and deliver morning bulletin, highlight a student of the week and teacher each month, monitor our anti-bullying link on our website, and organize a school wide activity every month. To help in this effort, the student Council Advisor, Cliff Peterson, teaches the kids about leadership and planning so that they can be more effective now and better prepared for tomorrow.
The student council does an amazing job organizing monthly activities. In the past months they have conducted building wide activities that were focused in anti-bullying, building self-esteem and promoting positive life choices. Recently the student council planned and conducted a "Bouncing Off Negativity" event for the school that taught the students about resiliency and anti-bullying. The council also did a service project by playing board games with the residences of Beehive House. Next month the Student Council will tour the capital during a legislative session.
Thank you Wayne Middle School Student Council, you are making a difference.