Latest News
Details

Hits: 14
WMS School Community Council
Meeting Agenda
October 15th, 2020 @ 5:00 p.m. (WMS Library)
1 - Chair & Secretary:
Chair-
Secretary-
2 - SCC Training & Roles:
Roles and Descriptions of Roles
Additional Training Opportunities
3 - School Land Trust Money:
Current Plan Link
Add amendment adjusting Goal 1 and Goal 3. Goal 1 was Tom Gulley. Tom is now
paid out of DTL (Digital Teaching & Learning). Nathaniel was funded to do Science
intervention course. He moved and those funds are now needed to supplement our
Special Education paraprofessional.
Vote Required:
Yes- No- Absent-
4 - School Safety
A-Digital Citizenship
Common Sense Media-Via Nearpod
B-School Safety
2-Bus Loading & Unloading
-Bicknell Town no longer wants to do stop signs. Any ideas?
5 - Meeting Schedule: We need to adopt and post a meeting schedule for the year.
Possible Dates: December 7, February 8, April 12 @ 5:00 pm-
Vote Required:
Yes- No- Absent-
6 - Other Ideas/Needs
Details

Hits: 21
Join us for the Wayne School District Board Meeting on October 14, 2020 at 6 pm at Wayne High School. You can also join the meeting online through webex using the link or information below.
Meeting Link: https://uen.webex.com/uen/j.php?MTID=m54ec48d2565c3f1fd8454cbe182ac2a4
Meeting Number: 133 317 3891
Meeting Password: WayneDistrict
Agenda
Details

Hits: 17
On September 18, 2020 Wayne School District employees boarded a bus and headed to Twin Creeks Pavilion for professional develoment. Employees were taught by members of the District Improvement Committee about finding their why. Employees learned about recognizing why they work for the district, who supports them to help keep them going and the successes and celebrations we experience that make all of the hard work worth it. Employees were asked to draw trees and apply these ideas to the trees. We learned about how we are all part of a forest and each of our trees are different just like we all bring different strengths and skills to contribute to the success of the district. We want to thank Jessica Grundy, Tracie Fallis and Tacie Wood for all of their hard work to make this professional development day a success.
Details

Hits: 23
Following is the amended budget for fiscal year 2021.
Details

Hits: 54
Wayne High HOSA is hosting a Blood Drive on October 1st from 10am to 2:45pm in the gym. Please come out and support the community! You can sign up online(https://www.redcrossblood.org/) for an appointment, but walk-ins are welcome!! If you have any questions you can contact Deborah James, This email address is being protected from spambots. You need JavaScript enabled to view it., or call the High School (435)425-3411.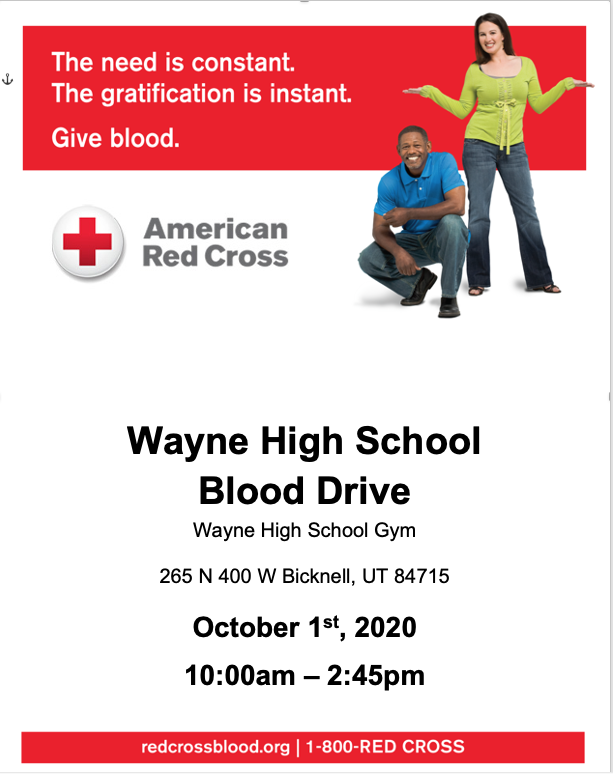 Details

Hits: 43
Another weekend of volleyball consisted of traveling to Valley for the JV Tournament. We got up and left pretty early to make it to Valley on time. We were all tired but we played as hard as we could. We started out not doing too well. We played two games and lost both, but the games were super close. We soon got into our groove and started doing much better! At the end of the day we had ended up taking 4th in the tournament. We ended up winning only 2 out the 5 games we played, but we still had fun!
--Savannah Williams (WHS Freshman)