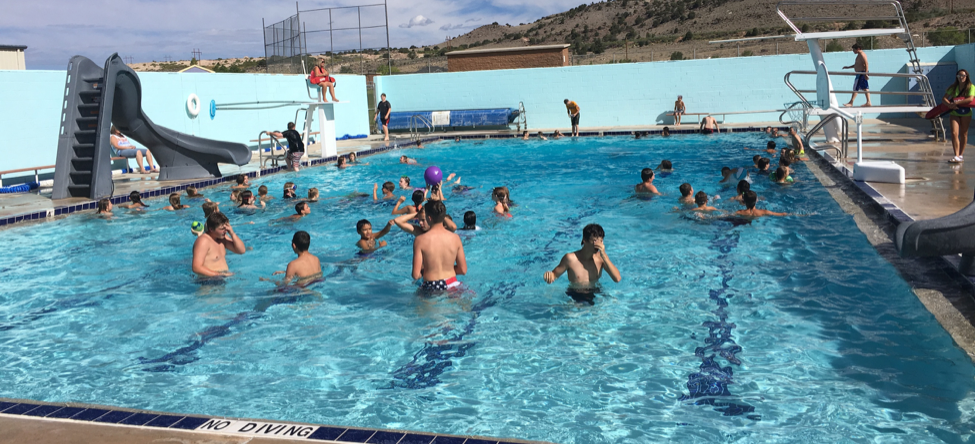 The students at Wayne Middle School had a treat the last Friday in August. At 10:00 they walked down to the Bicknell pool and had an opportunity to have an after school swim. Mr. Peterson (Wayne Middle School's Principal) used the time to welcome the students back from a long hot summer and to celebrate the start of the 2018-2019 school year. The students had an enjoyable splashing each other and trying to get the teachers wet. All of the teachers were in attendance to supervise and life guards were present and extra attentive. Sherry Ellett, our Art Teacher, was the primary life guard. In the next month the middle school will use the pool as part of its physical education program. The students will go to the pool during their PE class and learn about pools safely and the basics of safe swimming. This activity was a great way to start the school year and we are looking forward to a lot of fun activities sandwiched between days of high-quality classroom instruction.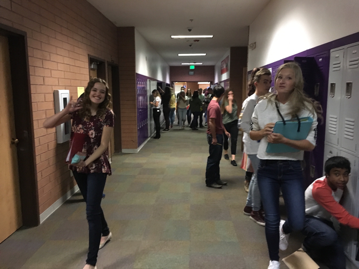 Since the end of the last school year the Wayne School District staff has been working to get the school ready for this school year. Along with carpeting throughout the district, there is a new floor in Loa Elementary cafeteria/gym, upgraded boy's bathrooms at the middle school and the front entrance in the high school has been refreshed. The teachers have been working all summer with their curriculum so they will be prepared for their classes. For the last few days excitement filled the air as our teachers readied their rooms in anticipation of soon to be arriving students. Loa elementary and the middle school have had Back-to-School nights so that the teachers and principals could meet with their parents and talk about the new things that are to come.

Finally, the day arrived and the students filled the hallways as they were greeted by their teachers and school staff. Each principal met with the students to discuss the changes in their schools and to introduce their new and old staff members. The high school staff sang a rap song to the students with this year's school theme of "No Limits." The idea is that the students should not set limits on themselves or on their future. We have outstanding teachers in Wayne School District and each of them is committed to providing the students with a profound experience this year. Our goal is that each student learns their rigorous curriculum in a positive and supportive environment that they will fondly remember the remainder if their lives. Parents, teachers, students and community members all play a critical part in the success of our school systems. Our School Board, District and School staff want to thank the community for their tremendous support in our joint effort to teach our kids.