"The best way to find yourself is to lose yourself in the service of others." --Ghandi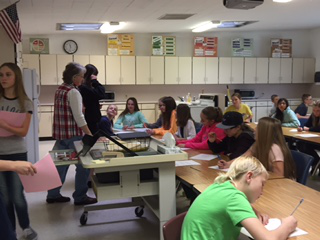 On Friday, February 17, WMS and WHS National Honor Society members worked with students at the middle school to begin a month long service project, "Letter to Soldiers." All middle school students in attendance wrote a letter to a member of the military. The letters will hopefully bring a piece of home (the U.S.A.) to the soldiers currently stationed overseas. Mrs. Stringham, NHS advisor; Rebecca Oyler, NHS President; Vanessa Barlow, NHS Vice President; and Kate Rees, NHS Secretary, along with high school NHS members, and middle school Junior NHS members worked with groups of 6th, 7th, and 8th grade students to create and prepare interesting and fun letters for our troops. Throughout the rest of February and until March 22, the middle school JHNS members will be collecting supplies to send to the soldiers with the letters that were collected.
The National Honor Society places high value on the service of youth. Each NHS and JNHS member is required to complete a certain number of hours of service throughout the year. Mrs. Stringham and the high school NHS officers are hoping that by involving the entire middle school in the "Letters to Soldiers" project, they have begun to create a feeling of gratitude and willingness to serve others.
We never realize what we do for others until someone does something for us. Because our military is filled with volunteers, we want to volunteer something for them to show our appreciation and help them feel like they are a little closer to home.
If you'd like to donate for the "Letters to Soldiers" project, please contact Mrs. Stringham at the high school, (435) 425-3411, or This email address is being protected from spambots. You need JavaScript enabled to view it.. She has lists of items that can be sent