Details

Hits: 1107
This past Saturday the Badgers hosted an all day competion against the Bryce Valley Mustangs. While most of the day the Badgers took a beating from the Mustangs losing both freshman and jv games they held their heads high as they entered the varsity game. It was a grudge match and every point was a dog fight. Both teams where very physical all four quarters.
Details

Hits: 1111
On the 15th Wayne hosted the Pinnacle Panthers. Wayne Had a comfortable lead the whole game came out with a win. Leading the pack in points this game was Garrett Chappell with 25 points and 3 three pointers. In this game Paden Peterson, a post, had 9 points, 6 rebounds, and 3 assists. Please come out and support the Badgers in their win streak. Their record is now 4-3.

Details

Hits: 1136
The Badgers came away with a victory on the 12th of December. It was a very close game in the first half. As the Badgers defended home turf Wyatt VanOrdean lead the team to a very convincing win with 26 points and 4 3 pointers. With the convincing win of 75 to 59 the Badgers Record comes to 3-3. The boys next home game is the 15th and 16th. Come support the Badgers in their pursuit for a state title.

Details

Hits: 1202
Over the weekend the Badgers traveled to the Buffalo Stampede. In the first game they where disapointed with a loss with Kanab. Garrett Chappell lead the team in points at 17 points with Wyatt VanOrdean following in a close 2nd at 16 points. The final score came to 53-62.
Details

Hits: 20008
2017-2018 Team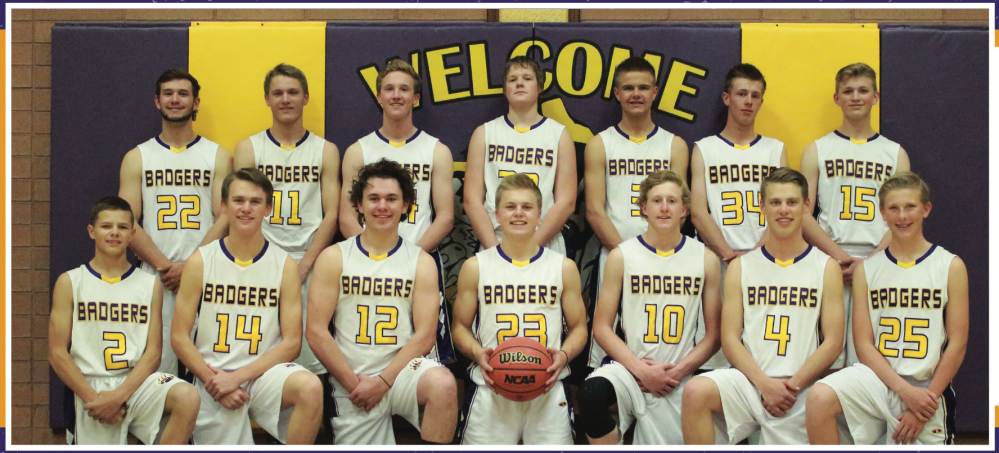 Coach: Mike Hinkle & Kerry Stevens
Manager: CJ Roderick
Cheerleaders: Rebecca White, Logan Stevens, McKenzie Jeffery, Destiny Dasse, Destiny Saunders, Destiny Durfey, Payton Mascaro, Stran Beeler, Shyanne VanDyke, and Raven Bown
Cheer Advisors: Miranda Martinez and Julie Durfey