Details

Hits: 1507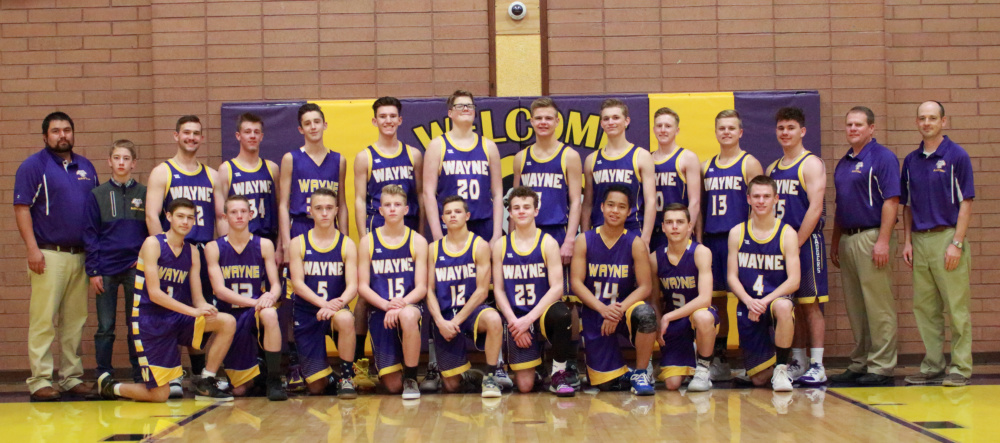 November 18 Tuesday Wayne @ Gunnison 4:00, 5:30, 7:00
November 22 Tuesday Green River @ Wayne 5:30, 7:00
November 29 Tuesday North Sevier @ Wayne 4:00, 5:30, 7:00
December 6 Tuesday Escalante @ Wayne 4:00, 5:30, 7:00
December 9. Friday Wayne vs Tintic (SVC) 8:30
December 10 Saturday Wayne vs Telos (SVC) 6:00
December 15 Thursday Wayne @ Piute 4:30, 7:30
December 29 Thursday Wayne @ Tabiona 2:30, 4:00, 7:00
December 30. Friday Wayne @ Altamont 10:00, 11:30, 3:00
January 5 Thursday Wayne @ Panguitch 4:00, 5:30, 7:00
January 7 Saturday Valley @ Wayne 4:00, 5:30, 7:00
January 10 Tuesday Wayne @ Escalante 4:00, 5:30, 7:00
January 11. Wednesday Water Canyon @ Wayne 5:30, 7:00
January 13 -14 Friday/Saturday Sophomore Tourn @ MIlford. TBD
January 19 Thursday Bryce Valley @ Wayne 4:00, 5:30, 7:00
January 24 Tuesday Wayne @ Milford 4:00, 7:00
February 2 Thursday Wayne @ Valley 5:30, 7:00
February 8 Wednesday Diamond Ranch @ Wayne 5:30, 7:00
*Non-Region
February 16 Thursday Region Tournament @ Home Sites
February 17 & 18 Friday & Saturday Region 20 Tournament @ Panguitch
February 25 Saturday 1A State Playoff @ TBA
March 1 – 4 Wednesday-Saturday 1A State Tournament @ SVC & RHS
Details

Hits: 1025
Coming off a hard loss from the Valley Buffalos the Badgers seemed to not be able to pull it back together for the game against the Rebels.
Details

Hits: 1091
In the first round of state emotions were high as the Badgers took on an old rival, the Valley Buffalos. Although Wayne has played well throughout the year as they played the Buffalos their defense fell apart.
Details

Hits: 1036
http://www.maxpreps.com/tournament/NBGCc9krEeeT-Oz0u-e-FA/NBGDQtkrEeeT-Oz0u-e-FA/basketball-winter-17-18/2018-uhsaa-boys-state-basketball-championships-class-1a.htm
Details

Hits: 1077
After falling at home on senior night the Badgers fought hard to end the regular season with a win. In the first quarter the Badgers lead 18-11.